Large Wooden and Timber Pallets For Sale
We create wooden pallets in a variety of sizes, treated in whatever way you need them – they're also all reusable and stackable, which makes them perfect for repeated use. We can also help with any packaging needed to keep the items in place. Alternatively, if you need wooden crates for a shop display we can "dress" them for you, creating smooth edges. Or check out our wooden pallet garden furniture page to see some surprising and unique ways to use wooden pallets.
Barnes & Woodhouse sell custom-built wooden pallets to trade and the public. We've refined and developed our processes over 50 years, becoming leading manufacturers in the process. From our warehouse in Middlesborough, we can design and build wooden pallets of all sizes, to fit your purposes.
Send us a message or call us on 01642 224092 to find out how we can help you today.
Bespoke Wooden Pallets
Built by experienced craftsmen
Our craftsmen have spent decades building bespoke wooden pallets, in addition to hundreds of other bespoke timber products, timber fencing, and wooden crates. Their skill and expertise are second to none. Combined with our perfectly situated warehouse (close to both air and sea terminals) we are the ideal choice for your wooden pallet needs.
Built to your specifications
We can build any number of bespoke wooden pallets to your exact specifications. Whether you're planning on using them for packaging, storage or as alternative garden furniture – we can provide expertly crafted wooden pallets that perfectly suit your needs. Tell us what you're planning on using your pallets for and we can even offer recommendations on size and materials so that you get the product for your needs.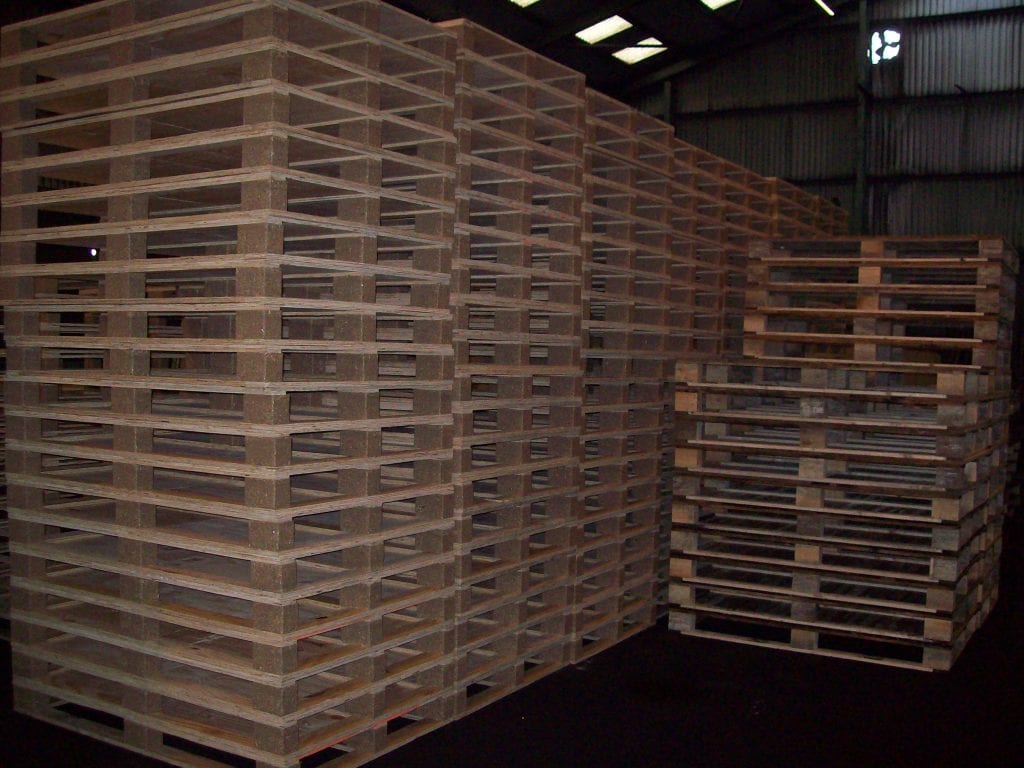 What do we use to make our wooden pallets?
Our wooden pallets can be produced in a number of ways, including heat treated to ISPM 15 standards, tanalised, dressed or sawn. If you're unsure what these mean, read on:
Tanalised Wood
Tanalised wood is timber which has been impregnated with a specific type of preservative solution and put through pressure treatment. It provides lasting protection against insects, rot and fungal decay, and is resistant to leaching. Tanalised timber will usually last 30 years outside and 60 years inside.
Dressed Wood
Dressed wood is lumber which has been put through a planing machine, resulting in smooth surfaces on any or all sides.
Sawn Wood
Sawn wood refers to the process of converting logs into usable timber. The wood may be plain sawn, which is when a log is sawn without adjusting its position, or it may be quarter or rift sawn which has been sawed in such a way that the wood's annual rings are perpendicular to the sides of the timber.
Finally our ISPM 15 timber has been treated with heat, and is suitable for international shipping. Wherever possible we purchase our timber from renewable sources.
Our Wooden Pallet Process
Consultation
Our process starts with you sending us an enquiry. Either call us on 01642 224092 or send us a message to let us know how many pallets you need, what size you'd like them to be and where you want them delivered. We'll do the sums and give you a competitive quote and an estimation on how long it'll take to get the job done. If you're unsure of exactly what you need – then just ask! We can draw on over 50 years of trade experience to offer you guidance on the best materials and designs that will suit your purposes.
Materials
Once we know what you need, we'll be able to carefully select the right materials for you. We use a wide range of hardwoods and softwoods (from renewable sources where possible) when manufacturing our pallets, and always ensure the highest quality possible. Whether you're using your pallets for international export or indoor storage, we'll have the best timber to suit.
Pallet design
Not all wooden pallets are created equal. We can create and design bespoke wooden pallets to meet your needs, so that they are perfectly suited to their requirements. Before we start manufacturing, we'll make sure that our designs will work in your environment. We're happy to make any modifications to our standard designs that you might need, including custom notches for use with forklifts or pallet jacks.
Manufacture
Once the designs have been drawn up and we have our materials on hand, we can get to work completing your order. The time it takes to complete your wooden pallets will depend on the quantity of the order, we'll be sure to give you an estimate of completion time so that you can plan around us.
Delivery or Collection?
We have over 50 years of experience completing large scale orders for business across the UK and pride ourselves on our ability to deliver high-quality products on time. If you'd rather arrange to collect your order then you can do so, safe in the knowledge that your products are kept safe in our secure warehouse.
Who are our wooden pallets for?
Export/Import businesses in need of any number of high-quality wooden pallets.
British businesses looking for a reliable established pallet manufacturer with decades of experience.
Smaller businesses in the retail or hospitality industry, looking for an alternative, low-cost furniture.
Television or film production teams.
Ordinary people looking for everyday storage solutions or DIY furniture/art projects.
Over 50 years of Manufacturing Wooden Pallets
As a nationally established business with over 50 years of successful trading under our belts, we understand the value of good business relationships. From the first enquiry to the final invoice, we pride ourselves on our efficient processes that have been refined with hard work and dedication. Although our wooden pallets might seem like simple products, we know that businesses rely on their construction to do what they do best – which is why every new pallet we produce is of the same, consistently high-quality as the last.
Get in touch with us today by calling 01642 224092 or send us a message, let us know your requirements and we'll give you a competitive price.
Wooden Pallet FAQs
How much do used wooden pallets cost?
Used pallets can cost less than brand new pallets, however, the quality of the material and the projected lifespan of the product will always be lower. Although there are some companies selling used pallets in large amounts, the sources of these pallets can rarely be confirmed and their service history is also usually unknown. This will leave doubts in the buyer's mind as to the level of quality that they are purchasing and the longevity of the wooden pallet.
What is the average size of a wooden pallet?
The average size of a wooden pallet is 800 mm wide, 1200 mm long and 144 mm tall.
The size of pallets is kept consistent around the world to ensure that the same industry-standard equipment can be used to move it at every stop in the supply chain. Although this is considered the standard pallet size, there are other custom pallet sizes that are used to deal with larger loads.
How tall are wooden pallets?
Wooden pallets are 144 mm tall as standard, although custom-built wooden pallets may come in different heights depending on the purpose they have been designed for. Each pallet is comprised of pieces known as 'stringers', in order to maintain uniformity and guarantee universal use. Each one of these stringers is between 22 and 24 mm.
How wide is a standard wooden pallet?
A standard wooden pallet is 800 mm wide, but there are other sizes that they can be built to. Wooden pallets have been roughly this size since their inception, as this width made them easily fit through most doors, especially those of railway cars, which were the most common form of transport for goods at one point.
Are all wooden pallets the same size?
Not all wooden pallets are the same size, however, a standard size is used throughout the import/export industry in order to keep the movement goods fluid. By keeping wooden pallets the same size, those involved in transporting and storing goods using them can use the same equipment to move them and can also calculate the space that they have to work with.
How heavy is a standard wooden pallet?
A standard wooden pallet weight between 15 and 22kg, however, the exact weight will largely depend on the purpose that it has been built for, its design and the type of wood used to make it. For example, softwood pallets weigh less than hardwood pallets, which are much denser and more resilient.
How long do wooden pallets last?
Wooden pallets can last for 10 years, depending on the material that they are made of, the amount of use they are subjected to and also where they are stored. Whilst some wooden pallets are built constructed using less durable species of wood, these can still last for over a decade if kept in dry conditions.
What is a wooden pallet used for?
Wooden pallets are predominantly used for the transport of fragile goods or small parts. Although rarely made of high-quality woods, their strong structural design means they can carry weights of up to 1400lbs. Wooden pallets can also be used in upcycling projects to create outdoor furniture and indoor decor.
Is taking wooden pallets illegal?
It is illegal to take wooden pallets that do not belong to you. Although wooden pallets can sometimes be left by businesses in front of premises, seemingly open to the public, this is not an invitation for them to be taken. Pallet theft is a common problem across the world, it's always recommended to store pallets securely to prevent this happening.
Are wooden pallets hygienic?
Wooden pallets have been proven to be as hygienic as plastic pallets. Whilst suggestions have been made within the export industry that wooden pallets are not as hygienic or as easy to clean as plastic pallets when a study was undertaken to assess the hygiene properties of both materials it was discovered that there was a negligible difference between the two. The research concluded that the distinction made regarding hygiene between plastic and wooden pallets was justified.
Can wooden pallets be carried in aircraft?
Wooden pallets can be carried in aircraft, however, any wooden pallet used for international trade should be ISPM treated and stamped in order to be shipped overseas. This process can be undertaken on all wooden pallets.
Can wooden pallets hold a car weight?
A standard sized wooden pallet can hold 4,600 lbs or approximately 2086 kg, which is the weight of a small car. For example, a new Mini Cooper weights between 1,210-1440 kg. Given that the correct surface area was used, wooden pallets should be able to hold the weight of most cars this size.
Can you put a shed on wooden pallets?
You can put a shed on treated wooden pallets as a foundation, this can help stabilise a shed and also protect is from soaking up ground moisture. Most treated pallets are unsuitable for outdoor use, however, they are good materials to use outdoors, especially for adding structural integrity to an outbuilding such as a shed or a greenhouse.
How do you stack empty pallets?
Stack empty pallets by using a flat, level surface and always using lifting equipment. If empty wooden pallets must be stacked by hand then at least two people should do so and personal protective equipment, such as gloves and steel-toe capped boots. Only those trained for this task should perform it and wooden pallets should never be stacked by hand above head height.
In order to avoid stacks toppling over at a later date, it's imperative that wooden pallets are stacked evenly and that only usable pallets are stacked. If a pallet has been damaged in any way then it is no longer suitable for storage and should be discarded, or repaired before being stored once more. Further guidance for the storage and stacking of empty pallets can be found in HSE guidance.
How long will wooden pallets last outside?
Wooden pallets can last for 10 years if kept outside in dry conditions. If you are choosing to store your wooden pallets outside in the UK then it is unlikely that you will have guaranteed dry conditions for anything longer than a few weeks at a time. Keeping your wooden pallets outside and exposed to the elements will limit their lifespan significantly. The length of time would also depend on if and how they have been treated.
What can be made out of wooden pallets?
Wooden pallets can be used to make many different objects for indoor and outdoor use. Whether you're building outdoor furniture, or upcycling pallets to use in the garden, wooden pallets have the structural rigidity to be used in many different ways including:
Outdoor garden benches
Overhead racks for pots
Raised desktop
Base for an upholstered ottoman
Flower boxes for shelves or raised garden beds
A base for wall art
Pallet pathway made of stringers
A garden swing
Shoe storage
Can you use pallet wood for flooring?
Pallet timber can be used for flooring, in order to do so each pallet will need to be of uniform material and wear. Due to the relative cheapness of timber used to make wooden pallets, they are often used to cover pre-existing vinyl or wooden floors. Once the floor has been laid, you may need to sand it down and varnish it, depending on the finish that you desire.
How are wooden pallets treated?
Wooden pallets are commonly heat-treated to ensure that they are safe transit to other countries without the risk of transmitting plant diseases or invasive species of insects. The International Standards of Phytosanitary Measures (ISPM) requires that all wooden pallets used for international trade are kiln treated to their ISPM 15 standard before they are used.
Are wooden pallets treated with chemicals?
Some wooden pallets can be treated with chemicals, depending on the use that they are being built for. The most common form of chemical treatment is Methyl bromide fumigation. This chemical is highly toxic and is now banned in many countries due to the health implications associated with it, however, it is a process that is still used in some parts of the world.
Will wooden pallets rot on the ground?
Wooden pallets will rot if left on the ground, as the moisture from rain and from the earth will eventually deteriorate the durability of the wood until they rot, and become unusable. Wooden pallets are built with the intention of last two years at most, as such, they are constructed with perishable, or non-durable woods species. However, if they are kept in dry conditions then they may last up to 10 years.
Can you use anything to protect wooden pallets?
You can use wood finishes, oils and seals to protect wooden pallets if you are using them to create outdoor furniture. Wooden pallets aren't waterproof and need protection if you are keeping them out in the elements for an extended period of time.
The wooden pallets will first need to be cleaned thoroughly, removing any debris or dirt that has built up over time. You can then sand down the timber, which will make it easier to apply the wood finish coating after. You may wish to apply an additional wood finish coating before applying wood sealing or varnish to finish the job.
How do you reseal wood pallets?
Reseal wooden pallets by using sanding sealer, a sanding sponge and polyurethane wood varnish. Ensure that all work is completed in a well ventilated space with the correct personal protective equipment.
Apply an even coat of sanding sealer to the pallet, following the direction of the grain. Wipe away any excess and allow to dry – this will take a few minutes. Then use a sanding sponge to create a dull, smooth surface across the pallet. Apply the wood varnish with a rag in the direction of the grain and then allow to cure overnight. The wood pallets will have to be sanded and then resealed once more in order to be reused.
Should I treat a wooden pallet before painting it?
Wooden pallets do not have to be treated before they are painted, however you can choose to do so if you wish to achieve an even coat of paint. As wooden pallets are often porous, paint coats can often appear uneven. Using a primer paint can help fill in the grains of the wooden pallet, making any additional applications of paint better adhere to the surface. Before applying wood primer to a wooden pallet, the surfaces should be cleaned, sanded and dusted first.
Is there a tool for dismantling wooden pallets?
Pallet dismantling bars have been designed to make this process more efficient. These purpose-built tools can make quick work of most pallets, however, they can often come at a cost and still require manual labour to use.
Get in touch with us today by calling 01642 224092 or using the contact form, let us know your requirements and we'll give you a competitive price.