Large Wooden Shipping & Packing Crates for Sale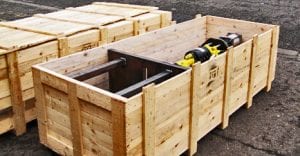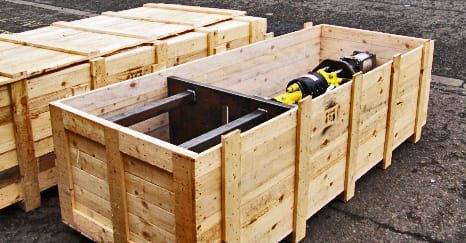 We produce wooden crates which are suitable for shipping in a huge range of sizes, but can also offer you tailor-made solutions for that particular item you're packing. All of our heat treated wood is ISPM 15 certified so is safe to ship abroad – if you're unsure of what you need, just get in touch with us. Whether you need boxes for jewellery or to ship a piano, we can find you the right crate.

 Specialist Shipping Crate Experts
Determined to continually provide our customers with robust, affordable bespoke shipping crates, we're proud ISPM 15 specialists with over 50 years of experience in building packing cases, wooden pallets and shipping crates across the United Kingdom.
As members of the Timcon federation, we're able to offer shipping crates with the latest technology as we're experts in housing your items in the most reliable heated treated wooden shipping crates. As the North of England's leading shipping crate specialist, we relish the challenge of creating bespoke items for specific purposes, so please don't hesitate to get in touch – no matter the item you need shipped.
Shipping Crates and Wooden Crates
Barnes & Woodhouse specialise in manufacturing individual and standard sized shipping crates from a variety of materials including sterling board, plywood dressed board and sawn timber. Many of the timber crates that we produce are used for the shipment of heavy equipment and can be custom-built for this purpose.
Our Process
We pride ourselves on our ability to manufacture quality wooden transport boxes from raw materials, all from our warehouse in Middlesborough. Our skilled workmen have years of experience in designing, cutting and assembling shipping crates of the highest quality – all of our work is bespoke and completed in-house. Working in this fashion gives us complete control over our product and guarantees satisfaction for our clients.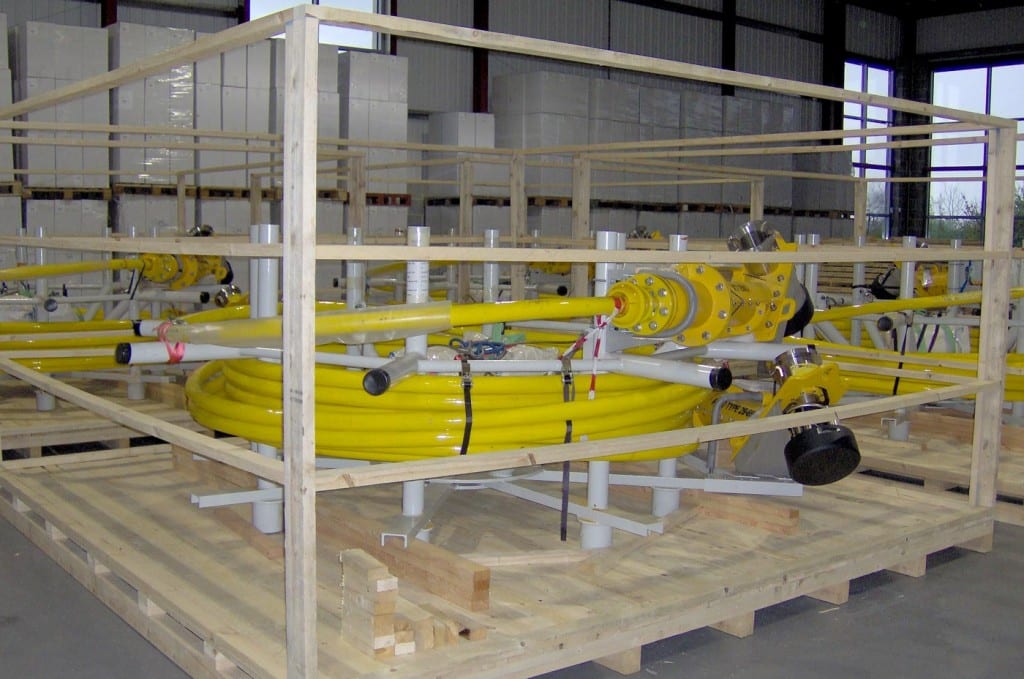 Wooden Crates In All Sizes
Our wooden packing crates are available in a range of sizes from just a few centimetres up to many metres squared and can hold tonnes of weight if necessary. We excel in producing high-quality large wooden crates to specification, but we are also happy to recommend materials and dimensions if you let us know what you're planning on shipping.
Wooden Shipping Boxes with Lids
Our trusted workmen have years of experience designing and constructing a wide variety of boxes and crates, including wooden boxes with lids. We're proud of the accuracy with which our team execute their work and of the high-quality bespoke orders that they produce. We're happy to talk to you about your order's specific requirements so that we can provide you with a quality lidded wooden box that fulfils all your needs.
ISPM 15 Heat Treatment
We specialise in building packing crates that comply with ISPM 15 shipping regulations, so you can feel safe in the knowledge that your goods can be delivered around the world. All of our ISPM 15 shipping crates are made to order and are heat-treated on-site with our own drying kiln.
Our Materials
Whether we're constructing just a few wooden boxes with lids, or a factory's worth of large wooden crates, we aim to use as many materials from renewable resources as possible. We're absolutely committed to adhering to our Environmental Policy and aim to source from within the UK before looking elsewhere.
Delivery or Collection?
We have over 50 years of experience completing large scale orders for business across the UK and pride ourselves on our ability to deliver high-quality products on time. If you'd rather arrange to collect your order then you can do so, safe in the knowledge that your products are kept safe in our secure warehouse.
Who are our wooden crates for?
Export/Import businesses in need of any number of high-quality wooden crates.
British businesses looking for a reliable established crate manufacturer with decades of experience.
Manufacturers or large-scale businesses moving operations overseas.
Ordinary people looking for everyday storage solutions.
Over 50 years of Manufacturing
As a nationally established business with over 50 years of successful trading under our belts, we understand the value of good business relationships. From the first enquiry to the final invoice, we pride ourselves on our efficient processes that have been refined with hard work and dedication. Although our wooden crates might seem like simple products, we know that businesses rely on their construction to do what they do best – which is why every new crate we produce is of the same, consistently high-quality as the last.
We deal in all sizes and volumes, so give us a call on 01642 224092 or send us a message to get a quote for your order of wooden packing crates.
Wooden Crates FAQ
Should I order by the inside dimensions or outside dimensions of the box I need?
Ordering using the inside dimensions is the industry standard for defining shipping crate dimensions. Shipping crates are built to transport a specific item or set of items, therefore box designs are based on having the right amount of space around that certain item. However, in cases where a box will be used for storage or will be transported in a fixed space (such as a shipping container or lorry) the outside dimensions can be specified to ensure that those restrictions are adhered to. It's important to specify when you are using the outside dimensions in these cases when ordering your shipping crates.
How should I provide the dimensions for my wooden crates?
Please provide your dimensions in metric measurements in the following: Length (L) x Width (W) x Depth (D).
Do you stock any "standard" wooden crates?
All our wooden crates are built to order, so we rarely have spare items in stock. In some cases we may have surplus wooden cases leftover from previous projects, however, these might not suit your needs. It's best to contact us online or give us a call to enquire further, as we may be able to help you in another way.
How much does a wooden crate cost?
The cost of wooden crates varies depending on the size, material and quantity that you order. Whilst it's possible to find cheap used wooden crates for sale online, it's not possible to guarantee the quality of these products, and they also will likely not be suitable for shipping internationally. Ordering custom wooden crates, made-to-order, guarantees a quality product that you can feel comfortable shipping your items in.
Can you make wooden crates in custom shapes?
We can make wooden crates to suit all sizes and shapes of items, including heavy-duty machinery, factory components and business tools. Whether you're moving a production line overseas or just moving home, our shipping crates can be custom built to suit your specifications.
Are you wooden crates ISPM 15 compliant?
All of our wooden crates are heat-treated to ensure ISPM 15 compliancy in our on-site drying kiln. Having the ability to heat-treat our shipping boxes on-site allows us to prepare large custom wooden cases for shipping quickly, giving our clients the most efficient service possible.
We're one of only a few UK based companies with this capability and are fully authorised by the National Plant Protection Organisation who assess us twice a year to ensure that our standards remain high. Any and all of our products can be made ISPM 15 compliant if necessary – you just need to ask.
Get in touch with us using the contact form or call us on 01642 224092 to find out how we can help you today.