Bespoke Timber Fencing for Sale Across the UK
From made-to-measure fence panels to garden trellis', our expert craftsmen use locally sourced timber to create premium bespoke garden fencing. In our Middlesbrough warehouse, we design and manufacture all types of fencing to suit all types of gardens. You can visit our warehouse for inspiration or to collect your custom-made fencing, or we offer nationwide delivery for customers up and down the UK.
Custom-sized fencing for your garden
Our team of highly skilled craftsmen have over 50 years of experience creating custom-sized timber fencing, from small scale to large scale projects. From your initial consultation, we will know your measurements and the ideas you have for your project. Working with our in-house design team, our craftsmen will get started with construction and bring your project to life.
All of our timber fence panels are made to measure, not created using existing stock, and are produced to the highest quality. Each of our timber fence panels are pressure treated and made from locally sourced timber to ensure that they can withstand the toughest weather conditions and last for years to come.
Bespoke timber fencing creations
Our experienced craftsmen have worked on thousands of creations over the years, and no project is the same! We have created a range of styles and designs for garden decor, from basic bespoke fence panels, to garden trellis', garden trellis fence panels, pergolas and more. Browse our gallery to see some of our creations!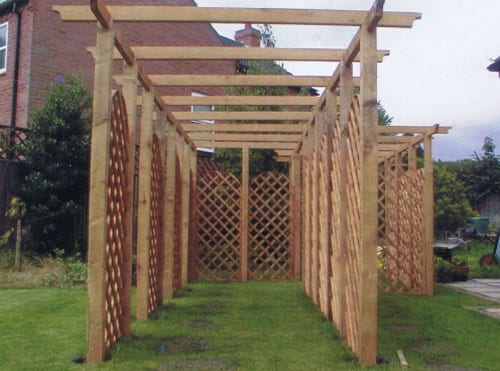 How does it work?
Initial Consultation
You can fill in a form with your details below and we'll get back to you as soon as possible, or give us a call on 01642 224092. We want to hear your ideas for your project and important measurements that we will need to know. To help us understand exactly what you want, you can email us some images of inspiration.
Design and Construction
Our in-house design team will draw up the plans for your fencing, precisely to meet your specifications, and pass them onto our expert craftsmen. They will then start the construction process in our warehouse.
Collection and Delivery 
You can visit our warehouse and collect your bespoke fencing to take it to your home, or we offer nationwide delivery at an additional cost. We work with couriers to ensure that all of our projects are packaged securely to avoid the risk of damage to your products. 
More than just fencing
We do not only just help people create fencing for their garden… we are able to create a range of bespoke timber products including rabbit hutches, garden furniture, sheds, summer houses, to name a few. If you have more ideas for your garden, and want our help then get in touch!
For enquiries about creating your own bespoke timber fencing, fill in a contact form with your details or call us on 01642 224092. We'll get back to you as soon as possible to speak to you about your project!
FAQs
What is a pergolas?
A pergolas is a piece of garden furniture that is great for your home, as it extends your living space. They are perfect for sitting outside and doing BBQs during the Summer, or keeping you dry during the remainder of the year. 
What is a trellis?
A trellis is a wooden framework with criss-crosses on them to help grow plants vertically, as well as looking great in your garden. You can have them built on your fence panels, or you can have trellis fence panels which make your garden look a bit different. 
Can timber wooden fencing withstand tough weather conditions?
Our hardwood timber is the highest quality and is able to withstand the toughest of conditions in the UK. Wind or rain, our timber products are built to last for 20-30 years without any damage to the structure of your fencing. We do, however, encourage you to maintain your fencing for maximum longevity. 
How can I maintain my timber fencing?
To look after your timber fencing and ensure that it lives it's maximum life span, we recommend that you clean your fence regularly to remove debris or moss, repair small damages to prevent further complications, apply protective finishes or wood preservative to avoid decay. 
How long does it take for bespoke fencing to be created?
The duration of time it takes for your bespoke fencing to be created depends on the size of the project and the complexity of the design. We can't promise a time that the project will take, but during your initial consultation we will be able to provide you with an estimate for you to work with. We will regularly be in contact to let you know its progress.
How much does it cost for bespoke fencing?
Bespoke fencing is more costly than ordering standard fence panels, as it takes time to design and construct the panels to your requirements. 
The price of how much bespoke wooden fencing is different for each project, and can depend on the amount of material used, time of labour and delivery costs. During your initial consultation, we will be able to give you an estimate of how much it will cost you. 
Is planning permission required for bespoke fencing?
In most cases, you won't require planning permission for bespoke fencing but it does depend on its size, and if there are local regulations in your area. We can advise you on whether you will need it or not, but it's best to check with your local planning authority to make sure.